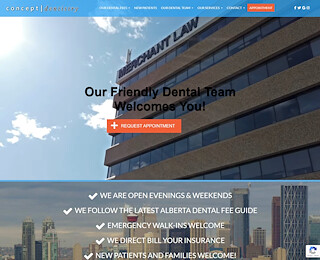 Are you looking for a family dentist near Calgary? Here is your new trusted dental clinic in Calgary!
Here five tips for selecting the best dental clinic in Calgary. 
Look for qualified and experienced professionals 
As for any medical professional choice, your family Calgary dentist should be one with the set of skills that provide you only the best results. And this not only applies to your dentistry. Looking for the best clinic in Calgary, involve that also the hygienists, assistants and all the clinics' team, should have good training.
You may think this is obvious, but not all clinics have multidisciplinary teams with top qualifications. Look for one that offers only the best, from requesting your appointment to getting the procedure you need to be done.
As the best cosmetic dentists in Calgary, Alberta, Concept Dentistry has only the best personnel. For example, we have Dr. Stuart Gough, who is a 3rd generation Calgarian, who, apart from having completed thousands of hours of continuing dental education in private practice, has even served as a Dental Officer in the Canadian Armed Forces. 
And we are not talking about being near you. Alongside being the best dental clinic in Calgary, they should also provide you candor and maximum comfort. Only the best ones care about this. And we are very proud of having a team of dental professionals primarily focused on putting our patients first. At Concept Dentistry, we will always offer you a friendly environment and personnel willing to answer any questions you may have. 
Detailed, transparent fees
As being a Calgary AB emergency dentistry, we understand that dental procedures could be challenging to afford sometimes. So, when looking for your dentist, don't hesitate to ask for detailed estimates. You must have transparent no hided fees information. You should be able to solve all the doubts and get a comprehensive extensive view of precisely what you will be paying for.
And guess what? Concept Dentistry announced that we follow the new 2020 Alberta Dental Fee Guide. This way, we take the guesswork out of billing, and you can be assured that you are not overcharged for our dental services. And we also offer direct billing to most insurance companies, which means that when you visit our office, we will submit your services directly to your insurance company. 
When having a dental emergency, the least you want to do is go from one clinic to another to get one thing fixed. So, when looking for your dental clinic, don't think twice; choose the one that offers you a whole multidisciplinary team. Pay attention that they provide orthodontists, implantologists, specialists in dental esthetics, and so on. More, in this case, can be better.
And another reason why this is important: a quality clinic will accurately coordinate the professionals you need to solve your problem in the shortest possible time. 
That's what you need! And that's what we will provide. We can offer our patients general and cosmetic procedures for every member of your family. Our services include:
Family dentistry
Children's dentistry
Emergency dentistry
Restorative dentistry
Cosmetic dentistry
Teeth whitening
Wisdom teeth extraction
Sports mouthguards
Suresmile
Dental implants
Sedation dentistry
Root planing
Hygiene/preventative services
Trios digital dentistry
Dental botox
Root canals
As dental healthcare is a continuously growing market, dentists should always be in constant training. Make sure your dentist makes time to keep his training up to date. That will allow him to offer you only the best and ultimate treatments and scientific discoveries.
And as you can expect in Concept Dentistry, we do not take this lightly. Our doctors are continually updating their skills by taking ongoing continuing education courses. 
Already made your decision? Contact us to schedule an appointment https://www.conceptdentistrycalgary.com/appointment.